Yesterday Tim Cook, the CEO of Apple posted a letter to their customers on Apple.com. It details how the FBI wants to Apple to create a way to investigate an encrypted iPhone, and the dilemma Apple is facing in doing so.
If Apple is forced to comply with the order to create a backdoor through their security there will be no way to ever ensure again, that your digital security and privacy is protected.
If you're an American and reading this you might be thinking that you don't have anything to hide from the US government. Maybe you're not ashamed of anything you've ever done, that's fair. But if you said that, I would quickly point out that in June of 2015 all my personal identity information was hacked and stolen from the US government along with 21 million other Americans' personal identity information (presumably by the Chinese government, though that's not confirmed). That includes my Social Security Number, the address of every house I've ever lived in, my entire work history, and even my fingerprints. Yes, all my identity information that was used to grant me security clearance by the FBI (the same FBI that wants access to iPhones) was leaked from the US government into the hands of some hackers. If you doubt me about this, here is the letter that the US government sent me regarding the issue.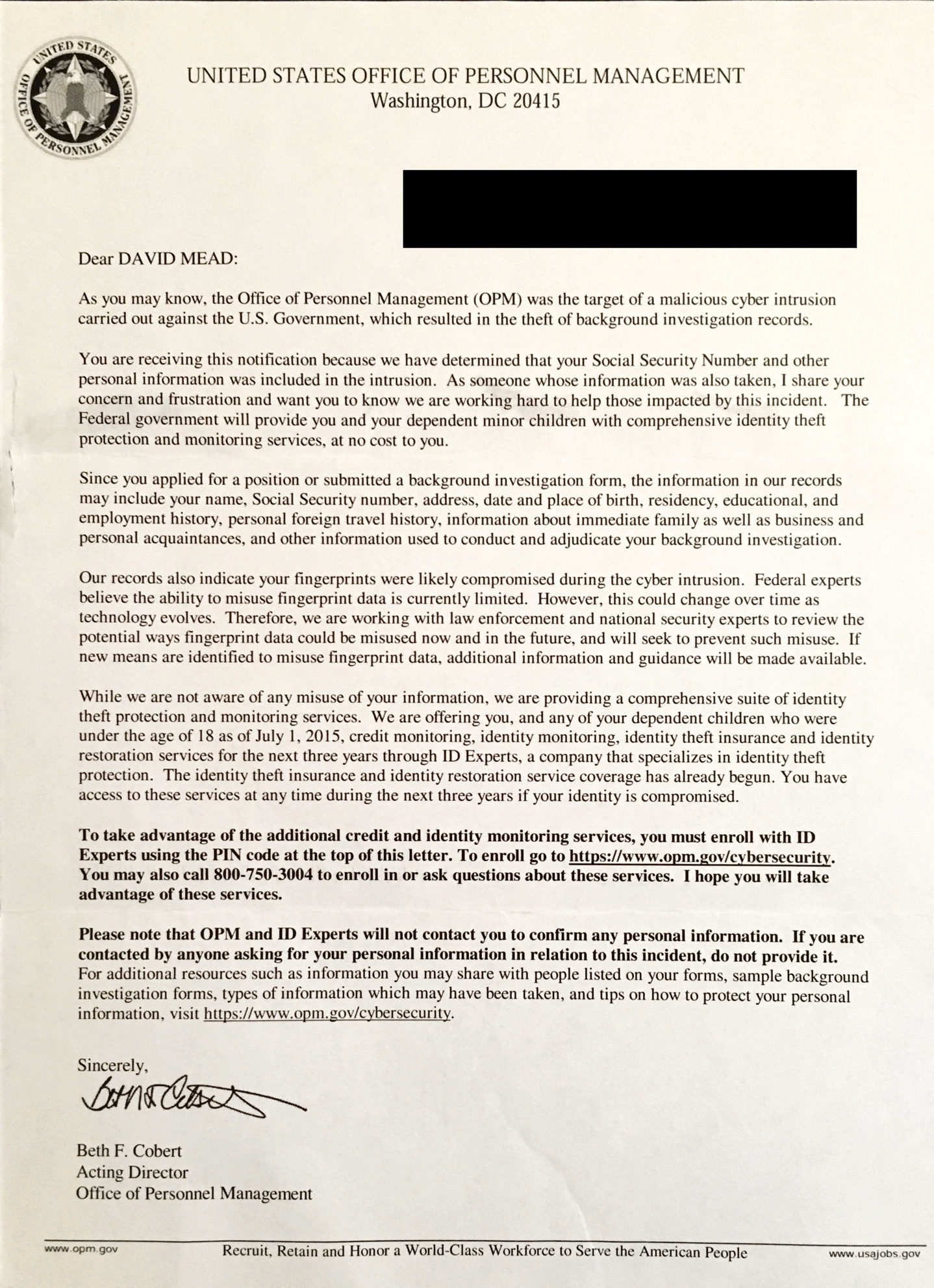 Now I'll ask you again, do you still want the US government to know everything you've ever done? Every message you've ever sent? Every photo you've ever taken? This is not paranoia, these are real threats. Breaches have already happened, and there's no way to ensure they won't happen again. And once that door is opened for the FBI, there won't be much in the way of anyone else opening that same door.
If Apple loosens security, terrorists will use other forms of encryption. In most cases they probably already are, it's not rocket science to set up. So by Apple loosening security, the FBI won't even accomplish their goal of more transparency into acts of terror.
Yes, the attack in San Bernardino was terrible. Yes, people will continue to do horrible things and hide behind encryption. But encryption is just a tool. It helps defend us much more often than attack us. A hammer can be used as a weapon too, but they aren't made for that purpose. Hammers are made build houses, houses to shelter us and keep us safe. Encryption was made to keep our information safe. I've already illustrated one example if how the US government is not reliable in that regard. I for one am glad Apple and Tim Cook have my back.
---
[Note]
Shortly after writing this I read Rene Richie's article on iMore about the same subject matter. He shares a similar view as I do, but dives at it from different angles. If you're interested in this subject matter, you should read that too, it's great.
---
I have copied the entire text of Tim Cook's letter below for posterity: